La Galette des Rois: l'Épiphanie Tradition & Recipe
Can you smell this? No of course you cannot… let me describe it to you: it's a delicious smell of almonds and bakery!
In France, on January 6 for "l'Épiphanie," it's typical for people to gather around a table and eat a "Galette des Rois." Inside it, a "fève" (originally a bean, but now porcelain subjects are more common) is hidden. The youngest person around the table goes underneath it and their job is to tell the person cutting the galette to whom the slice is going. The serving person usually says: "C'est pour qui?" (Who is it for?). If you are lucky enough to have the "fève," you'll be crowned King or Queen of the day! And don't forget to wear your crown!
But from where did this tradition originate?
Back in the Roman Empire, millennia ago, the people used to organise celebrations in honor of Saturne (Chronos for the Greek) and the Sun. The galette is round and gold to remind us of the sun. It was a very special day because the enslaved were allowed to share a "galette" with their enslavers. If they happened to have gotten the "fève" (at this time a dry bean, an almond, a hazelnut, a pistachio or a peanut), they would become the "Prince des Saturnales" and would be able to have everything they wanted for a day.
In the Middle Ages, the tradition was still honored except that the 'Chosen One' would not become the Prince of the Saturnales but the King, and would have to pay for all the drinks. However, some people were stingy and would swallow the bean. Consequently, the bean "fève" was ultimately replaced by the porcelain one to prevent the king from swallowing it to cheat.
Nowadays, you can find a Galette des Rois in every supermarket in January. There are different varieties such as: "frangipane" (classic almond), chocolate/nutella, chocolate and pear, chocolate and apple, apple, among many others. There is also a large variety of pop-culture "fèves": Star Wars, Simpson, cartoon figures, religious characters). Even the crowns are personalised (you can get a Star Wars one with Stormtroopers, R2-D2, C-3PO, Chewbacca, Master Yoda or Darth Vader featured on it!).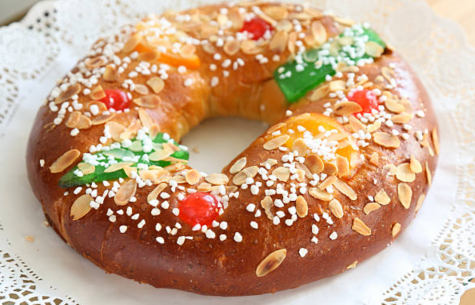 If you go to the South of France in Provence, you will rather find a "Brioche Provençale," also called "Couronne des Rois." It's a brioche (more of a bread than a pastry), traditionally aromatised with orange blossom essence with candied fruits and sugar pearls adorning the top. Its shape is like a giant crown donut. Two "fèves" are hidden in it: a 'real' fève and a porcelain figurine. They both have different meanings. If you get the "fève," you will be King for the day. However, if you get the porcelain figurine, you will be a simple peasant and thus have to obey the King for a day.
Keep reading to see our family recipe for this delectable dessert.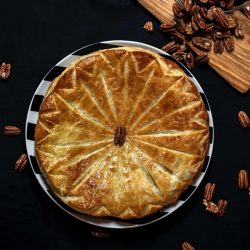 Galette des Rois (King's Cake)
A simple pastry dessert brimming with almond cream, galette des rois is the traditional food for Épiphanie in France (January 6). This is a family recipe courtesy of Caroline's mom and lovingly translated by Caroline for Courier viewers to enjoy and try at home!
Equipment
Mixing Bowl or Electric Mixer

Oven

Pastry Brush

Scoring Knife

or a light touch with a traditional knife!

Pie Pan
Ingredients
2

pastry puffs

120

g

sugar

60

g

butter

3

eggs

2 for almond cream; 1 for dough brush/wash

1

fève

a trinket or bean of choice
Instructions
Almond Cream Prep (Frangipane)
Mixing by hand or using an appliance (KitchenAid or similar), whisk the sugar and butter until it becomes a cream

Add almond powder to the mixture and mix.

Add two eggs one by one while continuing to beat the mixture.
Dough Prep (Galette)
Roll a pastry puff into a circle and place into a pie pan.

Leaving a 2 cm outer rim, spread the almond cream onto the pastry puff.

Put the fève into the cream. (Be sure to tell anyone eating this if there's an inedible surprise!)

Wet the outer rim of the dough and place the second pastry puff on top of the cream.

Use your finger to gently seal the sides of the puffs.

Beat the remaining egg in a separate bowl and brush the top of the dough. You may wish to save some of the remaining egg wash in the fridge for a second browning prior to baking.

Let the cake rest in the fridge (not freezer) at least 30 minutes.
Oven Prep
Heat the oven to 350 degrees Fahrenheit.

Without cutting the dough through, use a blunt knife or other scoring utensil to create a preferred design on the top of the dough (e.g., flower, sun, snowflake).

Brush beaten egg over the dough a second time.

Cook in the oven at 350 degrees Fahrenheit for approximately 35 minutes.

Let cool. Serve or refrigerate.