Here at Webster Schroeder High School we have a UPK program with two classrooms located on the east wing. The UPK children don't exactly have the "normal" pre-kindergarten experience I'm sure you had when you were four. So the real question is, how does the UPK program work, and what are the challenges with it operating on a high school campus?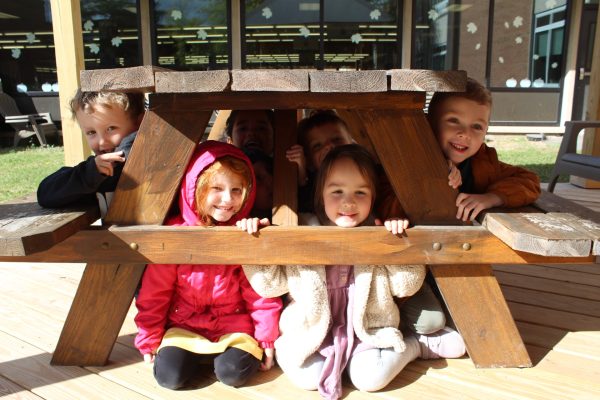 If you're unfamiliar with UPK (Universal Pre-Kindergarten), it is a program funded by NYS for children who are four or turning four by December 1st that year, and are not ready to attend kindergarten just yet.
In an interview with Ms. Cos (UPK teacher at Webster Schroeder) she described UPK as "a program that allows and encourages four-or-five-year-olds not yet eligible for kindergarten to have a learning experience to prepare for kindergarten with play-based learning."
Now you might be wondering about play-based learning, what is it? Play-based learning has 5 components: physical play, language play, cognitive play, emotional play, and social play. All of these have different examples and activities. For example, puzzles are used to build cognitive strength, or making friends can build their social capacity. All the components are equally important for play-based learning to prepare them for kindergarten the following year.
How does UPK work in a high school setting? What are the challenges for the students and teachers?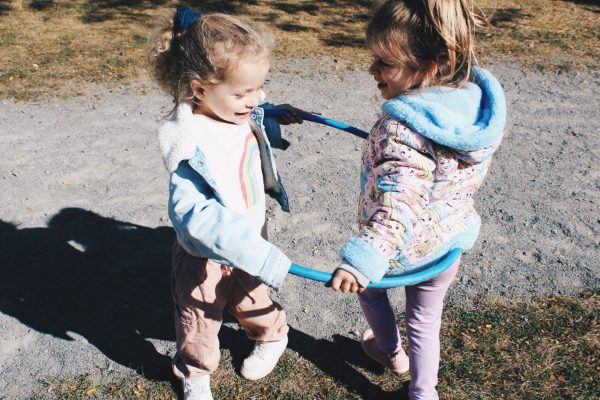 Although the young kids are at a high school campus, they adjust very well after just a couple of weeks. In the first couple of weeks, some of the kids find the size of the building overwhelming because of the number of "larger" people and all the things going on outside of their classroom. But in time, the teachers notice that they don't feel this way anymore. Believe it or not, UPKers love when the "big kids" talk to them! Just saying "hello" to them or waving can really make them feel like they belong here at Schroeder.
One of the more significant challenges for the teachers and the children is, "making a space designed for high school meet the needs of UPK," notes Ms. Cos. In a "normal" UPK classroom, students have bathroom access in-room, a sink and cabinets—here they don't have any of those. The obstacle of not having a bathroom in the classroom is some students are still learning how to use the bathroom. Not having the bathroom right there in the classroom makes it harder for the kids to just go to the bathroom whenever they need to without adult assistance. Instead, they have to have an adult walk them down the hall so that they're able to go.
Another unconventional adjustment for the program here at Schroeder is recess time. Since the campus doesn't have a typical elementary-level playground, UPK has their recess in the courtyard. You might be wondering what they could possibly do in the courtyard? Well, you'd be surprised. A lot of the kids use their imagination. Playing with the gravel like it's sand or making up games with their friends. They also play games we all love and know like "Duck, duck, goose," tag and hide-and-seek. Overall, the kids are impressively resourceful during "outside time."
Modifications for UPK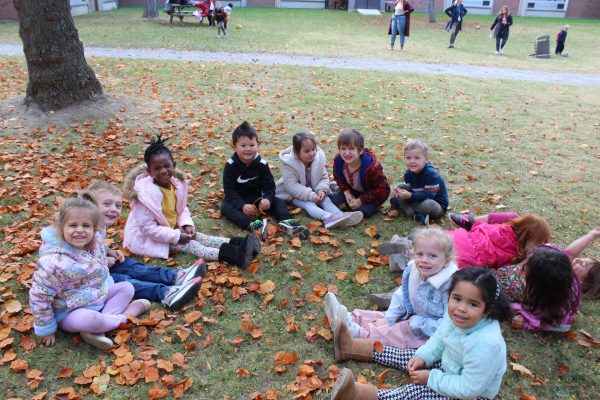 Many modifications have been made for the UPK program to accommodate their learning. One example is turning a faculty bathroom into the UPK bathroom so it's more accessible to the children. Schroeder also turned the faculty dining room into a UPK lunch area, as well as carved out a semi-dedicated kids area complete with childrens' books into the library, so they can get books to bring home. This past year, Schroeder Library also hosted the return of Scholastic Book Fairs, which isn't as common on a high school campus.
But the most recent and perhaps most significant accomoodation that has been made is the sandbox built for them by the GeoTech students. For those who aren't aware, GeoTech is a Webster program that originated in 2018 in which select students explore math, science, and technology through hands-on learning. Creating a sandbox for the UPKers was the perfect opportunity for the program's staff and students to flex their ingenuity and engineering skills.
The sandbox didn't just happen overnight, though. It took tremendous planning, collaboration, and thought to bring this project to fruition. Ms. Cos noted that UPK has been wanting a sandbox for a while as it sustains multi-purpose play as a sensory activity that helps UPKers be creative, practice motor skills, and interact with nature. They thought it was the most logical to work with GeoTech so they gave them an idea list for GeoTech to start brainstorming.
GeoTech and the Sandbox
Students in the GeoTech program were happy to answer questions about and discuss the process and outcome of the sandbox project, noting how the labor was intensive and came down to trial and error. Student Nick S. remarked "It took a lot of planning and math—budgeting for cost and shipping also. Though we had to rebuild it twice, we got it right the third time, and we learned a lot from the first two trials." Overall, the sandbox took more than two classes to make and a whole lot of teamwork.
"
"My favorite part was seeing the kid's excitement and seeing the 'big kids' play in it."
— Mrs. Croft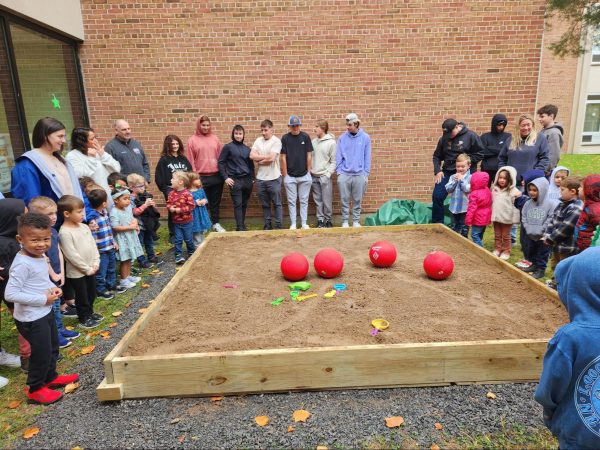 While GeoTech students found value in planning and building the sandbox, many found the best reward was seeing the kids so excitedly playing in the sandbox afterwards. GeoTech teacher Mrs. Croft said "My favorite part was seeing the kid's excitement and seeing the 'big kids' play in it." Truly, the sandbox was a lot of fun for all of the kids and GeoTech teachers to make and they really enjoyed it.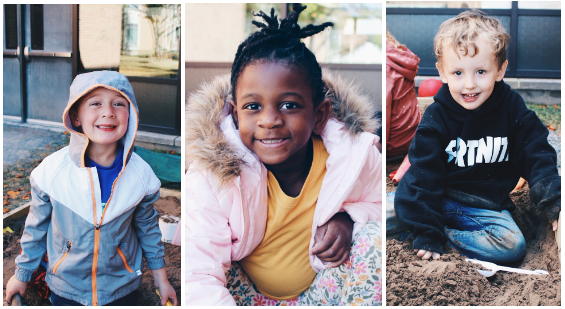 How has this impacted UPK and GeoTech?
It's safe to say that the UPK kids LOVE the sandbox. When asked, the majority of the UPK kids exclaimed their favorite thing to do at recess was play in the sandbox. Among the responses were: "It makes me happy," "I can dig with my friends!," and "The sandbox is so fun!!," which is all the evidence one needs to know this collaboration was a home-run. View the photos in the gallery below to see for yourself how happy the UPKers are and how much this has truly elevated their recess time. Instead of gravel to dig, they now have sand, and it genuinely makes them so happy to have a sandbox.
And not just the UPKers were significantly moved by the experience. Seeing and knowing how much of an impact they had, GeoTech students are thrilled by the sandbox's reception. Student Oleg says, "It makes my heart melt seeing the kids so happy." Nick S. also felt pride in his and other students' work saying "I feel good knowing they're happy and no longer have to play with gravel." Lastly, when GeoTech were asked if they would be willing to do future projects for the UPK program, 100% of the students said yes! Here's to hoping for another collab in the near future.